Cleaning tile and grout, or any other hard to clean surfaces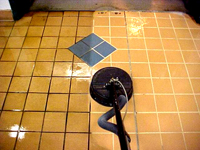 in your home or business is sometimes a real pain. They get filthy, stained and bring the look of your room down. Bring the vibrancy and clean back to your bathroom, lobby or hallway by calling Treadstone. Our tile and grout cleaning service will attack the toughest job to your walls, floors and countertops. The dirt trapped in the pores of grout are almost impossible to get out with just a mop or sponge. Let Treadstone help you. We will clean those stains and grime buildup from those dirty grout and tile in your flooring, showers and countertops. We guarantee to remove all those awful contaminants and leave your tile and grout sparkling clean.
How we clean Tile and Grout
First we sweep to remove any dust and heavy debris on the surfaces to be cleaned. Our next step will be to spray down the appropriate cleaner for the type of surface we are cleaning. There are many different kinds of tile and stone so we always make certain that we use the right solution for the tile or stone we are cleaning. Then we use brushes to agitate to remove those ground in soils. After a dwell time we use our high pressure extraction system to blast the grime and dirt out of the porous grout lines. The area is then dried with air movers and microfiber towels or mops to prepare the area for the tile and grout sealer. Once the sealer is applied and cured we remove the excess tile and grout sealer and the area is then ready to use again..
Natural stone care like marble or travertine is cleaned with a more gentle cleaner so as not to etch the stone and lose the shine. Natural stone care is one of our specialties but unlike Marble that is soft and easily damaged we also clean Granite floors and countertops as well. Granite is very hard and is not as fragile as Marble so we can use different solutions to achieve great results when we use our tile and grout cleaning system.
webforce, Tile and grout cleaning